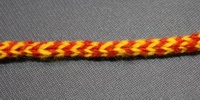 Materials Needed
Double pointed or circular needles
Yarn of your choice
Yarn Needle or Crochet Hook to weave in the loose ends when you're finished
Scissors

The example shown is using size 3 DPN's (double pointed needles) and fingering weight yarn
I-cord is a narrow tube that is knitted. It can be used as a tie for clothes (such as a hat), edging for a garment, blanket or other project, or as an applique. This example uses double pointed needles, but you can also use a circular needle to make an i-cord.
To make the i-cord, begin with the desired amount of stitches. In this case, we'll use 4 stitches. Using double pointed needles, knit a row. Slide the row to the other end of the needle rather than turning your work.


Continue knitting in the round. This will encase the wrong side within the i-cord itself.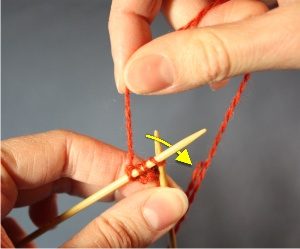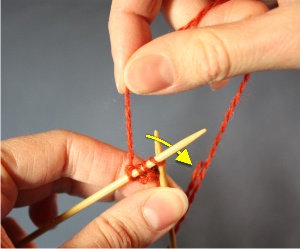 If you want to attach your icord to something, knit all the i-cord stitches to the row except for the last one. Then knit a stitch on the garment, or if there isn't one, pick up one, and pass the slipped i-cord stitch over the garment's stitch. Then, as you would in a standalone i-cord, slide the stitches over and continue knitting the i-cord in the round, picking up more stitches on the garment as you go along, as needed.
If the i-cord is small, you can clip a yarn tail, pull it through the remaining loops, and pull tight, weaving the yarn end into the i-cord. If it's a larger i-cord for, say, a purse strap, you might want to try another technique such as a 3 needle bind off.