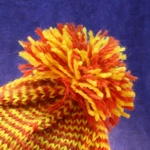 These instructions will show you how to make a pom pom.
Here are the items you'll need:
Yarn
Scissors
Straight Ruler, Cardboard, or something to wrap the yarn around
Pom Pom Assembly
Sure there are devices out there that are meant to make a pom pom. However, for small ones, I simply use a straight ruler. For larger ones, you can use a piece of cardboard or a small box – anything that is rigid and fairly flat will work.

Cut a piece of yarn about 12″ long and lay it across the length of the ruler. If you're using fingering weight or otherwise very thin yarn, cut 2 pieces for extra reinforcement. Now wrap your yarn around the width of the ruler (not the length) until it is about 1/4″ thick with yarn. Take the 12″ long yarn piece and tie it, closing it around the wrapped yarn.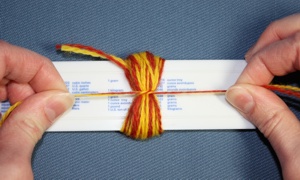 Try to tie it as tight as possible without breaking the yarn you're tying with. Now turn everything over so that the knot is on the bottom, and cut the wrapped yarn along the halfway mark, opposite of where you tied it together. Even out the edges on the pom pom with your scissors until it is the desired shape.