We received a request for an example of knitted eyelet stitches. Eyelets are great for decorative purposes, or they can function as a buttonhole or used for lacing. Here is the most basic pattern example I can think of, and then we'll list some free pattern resources at the bottom of the article, in case you're interested in spreading your eyelet-making wings!
When creating eyelets with knitting, the main thing common to most patterns that I've seen is that you will yarn over (yo), then knit two together (k2tog) (or some other variant that combines more than one stitch) and on the next row generally knit or purl across. The yarn over and knitting two stitches together allows the yarn to create the eyelet hole. The bottom of this article shows how to make a basic eyelet for right and left handed knitters.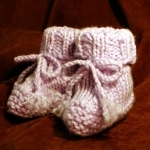 Here is an example of baby booties that use eyelets around the ankle, where decorative ties are laced in around the ankle.
You can find this pattern for knitted baby booties here!
This pattern is made using straight knitting needles, so it's great for beginner knitters, and it knits up quickly.

How to Make Basic Eyelets
For this example, cast on an even number of stitches. In the photos below and the video example, I cast on 16. This example uses size 8 (US) knitting needles and a worsted weight cotton yarn.
Eyelets In A Garter Stitch:
Row 1: k1 * yo, k2tog*, yo, k1
Next row: Knit across
(repeat between asterisks until you have 2 stitches left)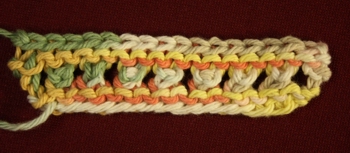 Eyelets In A Stockinette Stitch:
Row 1: k1 * yo, k2tog *. yo, k1
Next Row: Purl the next row
(repeat between asterisks until you have 2 stitches left)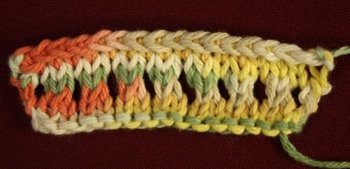 Depending on what you're making, you can "dress" the eyelets up by threading something through them. For example, the baby booties shown here have eyelets around the ankle, and then ribbon or yarn can be threaded through them for a decorative look. I've also seen scarves and blankets knitted with eyelets and then ribbon threaded through them lengthwise and knotted on either end, the loose end hanging a few inches off as decorative fringe.


Here are video examples of how to make eyelets:
And here is the left handed version:
Free Patterns On CyberSeams That Use Eyelets: