I decided to make a really quick Halloween wreath using items from around the house and the dollar store. This is a simple project that, not counting drying time for the paint, took about 15 minutes to actually put together!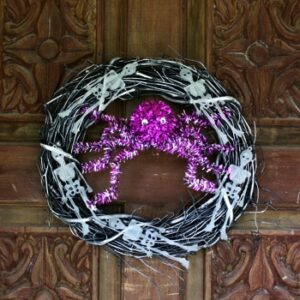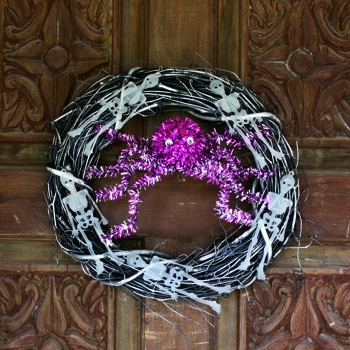 What I used for the wreath
These are items I used for this project. The lighter gray paint and metallic Rub n' Buff were already in my possession, but I purchased the paint and the decorations.
Grapevine wreath
Spray paint
Rub n' Buff or other lighter colored paint for highlights
Craft wire
Halloween decorations from the dollar store
First, I sprayed my grapevine wreath with black. I'll admit this is not an original idea! I saw someone else do it and decided to expand on it by adding other features like highlights and metallic paint.
Because my door is already a very dark color, I chose another color of paint that is brighter to add to the wreath. So after the black layer, I lightly painted some gray over it – but I didn't cover the black completely. Just a little here and there. After the paint dried, I still wanted some more "pop," so I added the metallic Rub n' Buff.
Next I added some Dollar Store skeletons. I didn't realize until I got home that they also glow in the dark, so I'm putting a black light over my front door to give them some glow at night. I used the craft wire to anchor them down to the wreath.
Finally, I hung a spider in the center of the wreath. And that's it! Wreath is finished and hanging up.
Check out the How To video below, and Happy Halloween!