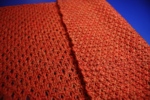 Decorate your home with this easy to make knitted placemat. This is also a perfect gift for someone who enjoys handmade home accents. It's knitted with any fingering weight yarn and size 10 straight needles. The finished size is 12″ x 20″ and you can easily adjust the pattern to fit your size needs.
Keep in mind that if you plan to use it as a functioning placemat, you will probably want to choose a yarn fiber that is machine washable!
Items you'll need:
Size 10 Straight Needles
Fingering Weight Yarn (Example is made with KnitPicks Palette Yarn)
Gauge: When working in stitch described below, 18 sts and 28 rows = 4″ (10.2 cm)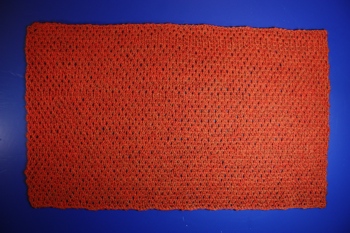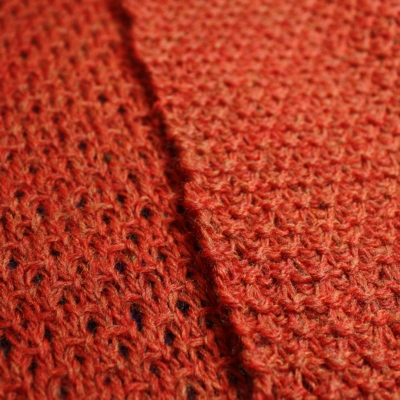 Easy Knitted Placemat
Cast on 100 sts.
Turn and begin the Linen Knit Stitch
The Linen Knit Stitch
Row 1: (k1, sl 1 wyif,)* Repeat to end.
Row 2: Purl across
Row 3: (sl 1 wyif, k1)* Repeat to end
Row 4: Purl across
Rows 5 – 80: Repeat instructions for rows 1 – 4.
To Finish the Placemat
Bind off on a purl row.
Weave in the loose ends and block the placemat to flatten it out.
Add fringe or beads to the sides for a fancier look!
Instructions for Fast Knit Blocking
Here's how I quickly blocked my placemat (the one pictured in this article):
Set your iron to a temperature appropriate for the fiber you used. My placemat is wool so I set the iron to a wool setting.
Pin the placemat to the ironing board, forming it to the final shape and holding it in that position with the pins around the outer edges.
Wet a washcloth or hand towel and squeeze out the excess.
Place the washcloth over the placemat and lightly hold the iron over it for at least 10 seconds. This will release steam and help shape the placemat without flattening the texture.
Re-wet the washcloth and keep steaming all the areas of the placemat until the entire piece has been blocked.
Allow the piece to cool off, and you're done!
Knitting Abbreviations
sts – Stitches
DPN – Double Point Needle
sl – Slip
k – Knit
k2tog – Knit 2 Together
p – Purl
St st – Stockinette Stitch
wyif – With Yarn In Front