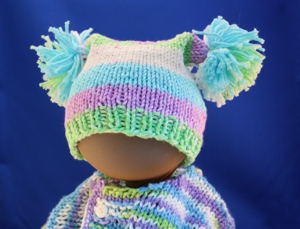 Here is a super simple knitting pattern for a baby hat. It has a ribbed edge and is knitted in the round, then bound off and stitched closed at the top. Super simple for beginners or anyone who wanted to knit a quick hat! I was able to complete this in a few hours. I've seen a few variations of this pattern out there and decided to write my own. I hope you enjoy!
Items You'll Need
Any worsted weight yarn. I used Sugar n' Cream Stripes in "Violet Stripes" in the pictured example
Size 7 double pointed needles or circulars
Size 5 DPNs or circulars for ribbing
Yarn needle to close it all up
Something to wrap your yarn around if you're making your own pom poms – I used a plastic ruler that I keep with my knitting supplies
If you're not making your own, you can use store bought jumbo pom poms
Gauge: 2″ = 9 stitches and 12 rows
Sizing: The final hat has a 12″ circumference. Using the gauge information, you can add or subtract to make it wider or narrower.
Knit Your Baby Hat
2) Join the ends and knit in the round using a rib knit pattern (k1, p1) for 6 rows
3) Switch to size 7 needles
4) Knit in the round for 30 rows
5) Bind off
6) Lay the hat flat and stitch the top edge closed
7) Now make 2 pom poms and sew or knot them to the top points of the hat
8) Weave in all loose yarn tails
That's it! You're all finished!