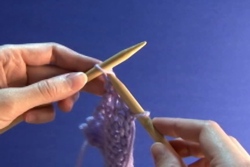 To bind off the last row, you're going to knit two stitches, then on the right hand needle, pull the bottom stitch up and over the top stitch, leaving only one stitch on the needle. This is very similar to crocheting here. You can use your finger to pull your stitches up and over, or use a crochet needle, or your other knitting needle. I just use my fingers, but any tools you need to help you accomplish this, honestly, is going to work just fine.
Knit one more stitch and again pull the bottom stitch over the top one. Continue this until you get to the end and have only one stitch left. Clip your yarn, feed it through the last loop, and pull it tight. Weave in the loose ends with a crochet needle or yarn needle into your work to hide it.
What if you were doing a rib knit? or a seed stitch? Or a stockinette stitch? How would you bind that off? I continue to knit the stitches just as I would have if I were knitting another row using those stitches. I simply bind them off (slip one over the other, as described above) rather than keep them on the needle.
Now after you've finished binding off, what about other finishing options? If you're making something like an afghan, you can cut tassels and add a fringe to the edge of your work, or crochet an edging around the knitted piece. How about simply using a contrasting yarn and doing a "whip stitch" or "blanket stitch" around the edge of the piece you've just completed?
Below you will find a video tutorial showing you how to bind off. Follow along and see how easy it is to actually do! Anyone can learn to knit and it's a great craft to know if you want to give handmade gifts!