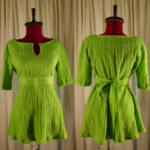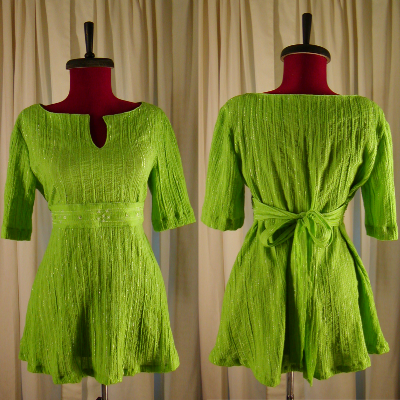 For this shirt project, I used Vogue pattern 7743. The fabric is a green crinkle gauze with metallic threads and it is embellished with seed beads and sequins. First I determined which pattern pieces I needed. I cut out each required piece and put the rest away. I chose to leave off the lower sleeve and add ties to the back. I wanted the ties to be 2″ wide. I made the strip 3″ wide and 31″ long. This gave me a 1/2″ seam allowance. I also cut a piece for the waist front, which I will embellish with beads.
Click below to view the video!
I prewashed this fabric and it warped a little bit. I used the grid on the cutting board to help me lay the fabric out straight. I recommend always referring to the pattern layout before you cut your fabric! I didn't buy enough, so I had to buy more. I was lucky the store still had it!
I transferred my pattern markings using chalk for the dots and transfer paper for the lines. I used tape for pattern paper reinforcement.
Before you begin sewing, make sure to determine which is the "right" side. This can be difficult sometimes with fabrics like gauze. Be sure to follow your pattern's instructions for the proper construction of the shirt. In this case, I was to sew along the marked lines. I made sure to clip the curves to prevent the fabric from puckering. Here are some finished pictures of the shirt: