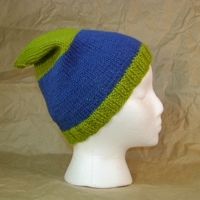 This is a free basic pattern for a hat. You do not need to know how to knit with circulars or double point needles – this pattern is meant for straight needles and the sides are then joined after it's knitted together.
Hat dimensions: One size fits most adults. Length: 10″
Items you'll need:
Size 6 (US), 4.25mm Straight Needles
1 Skein Lion Wool or comparable worsted weight yarn, for each color used (See note below)
Small crochet hook
Yarn needle (optional – for weaving in loose ends)

– the example images show two colors – if you make the hat a solid color you will only need 1 skein of that color.
Gauge: When working in St. st, 5 sts and 7 rows = 1 inch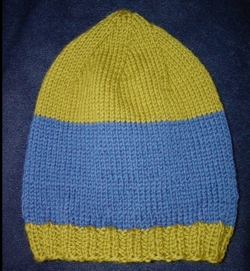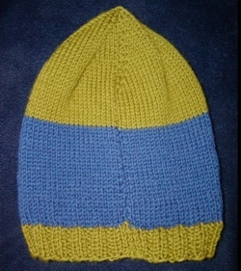 Body of the Hat:
Cast on 84
k 8 rows in rib knit (k2, p2) * Repeat to end
Optional: Attach a different color to being new stripe
k27 rows in St. st.
Optional: Attach another color for final stripe
k13 rows in St. st, ending with a purled row

If you want your hat to be longer or shorter, you can add or subtract rows here before you begin decreasing.

Decrease:
(k10, k2tog)* Repeat 7 times to end
Next row: Purl
(k9, k2tog)*
Purl
(k8, k2tog)*
Purl
(k7, k2tog)*
Purl
(k6, k2tog)*
Purl
(k5, k2tog)*
Purl
(k4, k2tog)*
Purl
(k3, k2tog)*
Purl
(k2, k2tog)*
Purl
(k1, k2tog)*
Purl
(k2tog)*
Finishing:
Cut the yarn, leaving a long tail, and pull through remaining stiches, securing in first loop. Use the remaining tail to join the sides together. If you used multiple colors, use the tails from the color change to join that color's section together. Weave in any remaining ends.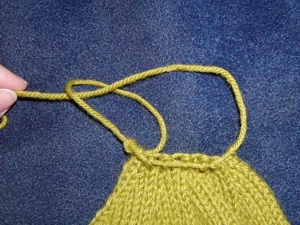 Knitting Abbreviations
sts – Stitches
DPN – Double Point Needle
sl – Slip
k – Knit
k2tog – Knit 2 Together
St st – Stockinette Stitch
* – Repeat as directed