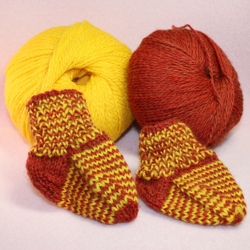 Items you'll need:
Size 2 DPNs
Size 3 DPNs (If you are making preemie socks, you will not need these)
2 Colors of Sock Yarn, any Fingering Weight Yarn, or (as used in this example) KnitPicks Palette Yarn
Yarn Needle or Small Crochet Hook for finishing
Gauge: 7 sts and 9 rows = 1″ on size 3 needles

Color 1 is whichever color you want to use for the heel and toe, and Color 2 is the alternate color. In the example pictured, Color 1 is red and Color 2 is yellow.
This pattern is knitted in the round. If when you join the round after casting on by knitting two stitches together, you will need to add one more stitch when you cast on.
Check out our complimentary Baby Hat Pattern too!
Begin the Cuff
Using size 2 DPNs, Cast on 36 sts. Place a marker at the first stitch.
Divide 12 stitches to 3 needles
Knit in the round, rib knit (k1, p1, k1, p1, etc) – first knit 2 rows of Color 1 and then for 18 more rows and ending at the stitch marker. Alter between Color 1 and Color 2. (For preemie socks, only knit 14 more rows)
Begin the Heel
Keep the heel stitches tight. Leave Color 2 on the back of your work for now and only use Color 1
Drop the stitch marker
Switch to size 3 DPNs. (If you're making preemie socks, keep using the size 2 DPNs)
Knit 18 sts (this will become the heel) in St st.
Put the remaining 18 sts on the same needle (or a stitch holder) and do not knit those for now
Knit 4 more rows on heel in St st, slipping the 1st stitch in each row, ending with a knitted row
Next Row: sl 1, p11, p2tog, turn
Next Row: sl 1, k6, sl 1, k1, psso, turn
(Next Row: sl 1, p6, p2tog, turn
Next Row: sl 1, k6, sl 1, k1, psso, turn) * Repeat the last two lines of direction until you have 8 sts remaining on the heel
Turn the Heel
Pick up 9 sts along side of heel onto new needle (this will now be called Needle 1)
On another empty needle, knit instep (the sts that were on hold or in the stitch holder) (This is now Needle 2)
Pick up 9 sts along the other side of the heel (Needle 3)
Work remaining heel sts onto Needle 1 as you continue in the round.
Knit 1 round even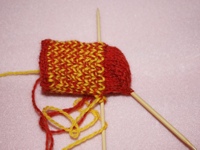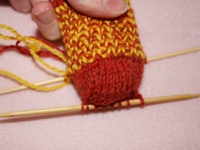 Note in the above photos, the 18 stitches that are not part of the heel are in the back on a separate needle.
Begin the Gusset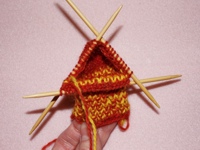 Begin alternating with Color 1 and Color 2 again here with each row beginning the alternating color. I prefer to begin a new color with Needle 1 as it makes keeping track of where you are a lot easier.
Needle 1: k to last 3 sts, k2tog, k1
Needle 2: k even
Needle 3: k1, sl 1, k1, psso, k to end of needle
Next round k even *
Repeat this section of steps until you have 36 sts.
Foot of the Sock
Knit 3 rounds even. (Skip this step for preemie socks and go straight to decreasing to the toe)
Decrease to the Toe
Needle 1: k to last 3 sts, k2tog, k1
Needle 2: k1, sl 1, k1, psso, k to last 3 sts, k2tog, k1
Needle 3: k1, sl 1, k1, psso, k to end
Next Round: k even
Begin the Toe Color
Repeat until you have 3 sts left on Needle 3. Transfer them to Needle 1. When you have 20 sts left switch to Color 1 only.
Needle 1: k1, sl 1, k1, psso, k to last 3 sts, k2tog, k1 *
Repeat on Needle 2
Repeat until you have 8 sts left.
Finishing the Toe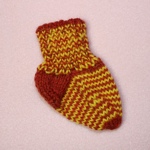 Cut a long tail and thread through remaining sts, pulling tight. Weave loose ends in on the inside of the sock.
The baby sock pictured here was made with Harry Potter's colors in mind. Any newest family addition would certainly be properly dressed for Hogwarts now!
Knitting Abbreviations
DPN – Double Point Needle
St st – Stockinette Stitch