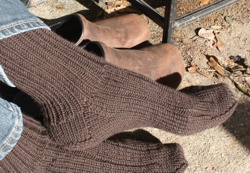 To Make These Socks, You'll Need:
Berocco Pure Merino Yarn – or any worsted weight yarn. I chose Pure Merino because it's a superwash wool yarn.

– For feet less than 7″ long: 2 skeins
– For feet longer than 7″ (or if you want a longer cuff): 3 skeins

Size 5 Double Pointed Needles or Size 5 circulars*
Stitch Marker
Yarn Needle
Scissors
Note: I prefer to use DPNs and my patterns reflect this, but if you use a circular needle, you can use stitch markers in the areas of the pattern which specify different needles to mark where certain stitches should be made.
Gauge:
1″ = 5 sts and 8 rows in Stockinette Stitch
Let's Knit Some Chunky Socks!
CO 43 and join first and last stitches to begin the round. This will leave you with 42 sts.
Knit The Cuff
k in rib knit (k1, p1) for 50 rows or to desired cuff length.
Heel
Put 22 sts on a stitch holder. This will be the instep.
For the remaining 20 sts:
sl 1, k to end (19 sts), turn.
sl 1, p to end, turn.
Continue knitting in St st (slip 1st st on each row) for a total of 12 rows, ending with a purled row.
Reduce the Heel:
RS: sl 1, k 13 sts, skp, turn
WS: sl 1, p8, p2tog, turn
RS: Sl 1, k8, skp, turn
WS: sl 1 p8, p2tog, turn
Repeat the last 2 rows until you have 10 sts remaining on that needle.
Turn the Heel
On RS, k across the heel sts – this will be referred to as Needle 1, or N1
Pick up 10 sts along the side of the heel – this will be referred to as Needle 2, or N2
Put the sts from the placeholder back onto a needle, and k them as follows:
k3, (p1, k4)* (repeat 3 times), p1, k3 – this is Needle 3, or N3
Pick up another 10 sts along the other side of the heel. This is needle 4, or N4
Shape and Decrease the Gusset
On the next round we'll begin to decrease:
N1: k even
N2: k to last 3 sts, k2tog, k1
N3: k3, (p1, k4)* p1, k3
N4: k1, skp, k to end
Next round, which I'll call an "even" round:
N1: k even
N2: k even
N3: N3: k3, (p1, k4)* p1, k3
N4: k even
Note: At this point it's a good idea to place a marker on any stitch in this row so that you can keep track of how many rows to knit before you begin decreasing. This way you'll know how many rows to knit for the matching sock. (e.g. for a 10 1/2″ foot, this would be 42 rows.)
Continue repeating the last 2 rounds, alternating decrease and even rounds, until you're back to 42 sts.
Once you return to 42 sts, continue knitting in the following manner until the foot of the sock is 2 inches shorter than the final desired length.
Decrease the Toe
We're going to redistribute the sts to three needles at this point. Remember that Needle 1 is the bottom center of the sock. The center of the stitches on Needle 1 will become the beginning of the round. So starting from the beginning of the round (the center of N1) and incorporating sts from N2, put 10 sts on an empty needle. This means 5 sts from Needle 1 and the 5 sts from Needle 2 will be combined. This is now Needle A, or NA.
Leave the instep sts on their needle, this is Needle B (NB)
Put the remaining 10 sts on a 3rd needle, this is Needle C (NC)
NA: k to last 3 sts, k2tog, k1
NB: K1, skp, k to last 3 sts, k2tog, k1
NC: k1, skp, k to end of needle
Next round: knit even
Repeat the last 2 rounds until you have 18 sts left – 10 sts on Needle B and 4 each on NA and NC.
You can finish off the sock in any way you prefer. To finish off with the kitchener stitch though, you'll need an even number of sts. Therefore, we'll do one more decrease round:
NA: k even
NB: k1, skp, k to last 3 sts, k2tog, k1
NC: knit even
Now the sock is ready for the kitchener stitch!
Knitting Abbreviations Used In This Pattern
DPN – Double Pointed Needles
k – knit
k2tog – knit two together
p – purl
p2tog – purl two together
N – Needle (e.g. N1 is Needle 1, NA is Needle A, etc)
skp – slip, knit, pass slipped stitch over knitted stitch
St st – Stockinette Stitch
sts – Stitches

Need help with other abbreviations? Visit our Abbreviations page!