This pattern fits Head Circumference: 10 – 14 in. / 25.4 – 35.6 cm.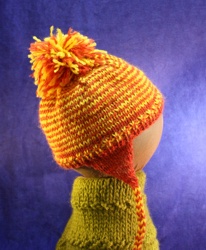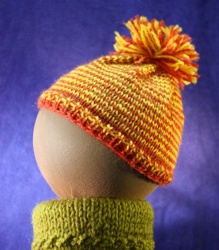 Items you'll need:
Size 2 DPNs
Size 3 DPNs
2 Colors of KnitPicks Palette Yarn (as shown in example) or any Fingering Weight Yarn
Yarn Needle or Small Crochet Hook for finishing
Gauge: 7 sts and 9 rows = 1″ on size 3 needles

Color 1 is whichever color you want to use for the main earflap color, and Color 2 is the alternate color. In the example pictured, Color 1 is red and Color 2 is yellow.
This pattern is knitted in the round. If when you join the round after casting on by knitting two stitches together, you will need to add one more stitch when you cast on.
Check out our complimentary Baby Sock Pattern too!
Knit the Hat's Cuff
Cast on 80 sts in size 2 DPN's.
Separate your sts onto 4 needles.
Place a stitch marker and join.
Knit 2 rows of Color 1 and 4 more rows, alternating between color 1 and color 2.
Knit the Hat and Decrease
k 18 rows in St st and then begin decreasing
To decrease:
(k8,k2tog)* repeat to end of row
Next Row: knit even
(k7, k2tog)*
Next Row: knit even
(k6, k2tog)*
Next Row: knit even
(k5, k2tog)*
Next Row: knit even
(k4, k2tog)*
Next Row: knit even
(k3, k2tog)*
(k2, k2tog)*
(k1, k2tog)*
(k2tog)*
Finishing and Optional Pom Poms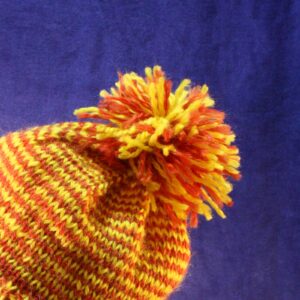 Cut a long tail and pull through the remaining loops, pulling tight and leaving the yarn ends on the inside.
If you are planning to add a pom pom to the top of the hat, you can tie it to the hat using these loose ends.
Afterwards, weave the ends in. If you are not going to attach a pom pom to the hat, go ahead and weave in all the loose ends.
Visit our short tutorial on making pom poms.
Making Earflaps
If this hat is going to be worn in a cold climate, you may wish to add ear flaps. This is entirely optional. You can place them equally distant apart, or have them slightly closer to the front of the hat. In this example, I made them an equal distance so that no matter which way the hat was put on, they'd be spaced the same way.
Fold the hat in half, and place a marker on each fold.
Then pick up 6 sts in color 1 on either side of the marker. So, you will have a total of 12 picked up stitches.
Knit in St st for 5 rows, ending with a purled row.
Begin Decreasing the Earflap
k2tog, k8, sl1, k1, psso
Next Row: Purl
k2tog, k6, sl1, k1, psso
Next Row: Purl
k2tog, k4, sl1, k1, psso
Next Row: Purl
k2tog, k2, sl1, k1, psso
Next Row: Purl
With 4 sts left, knit an i-cord from this point until it is about 12 inches long. Add color 2 when you knit the i-cord and alternate between colors for each row.
Knitting Abbreviations
sts – Stitches
DPN – Double Point Needle
sl – Slip
k – Knit
k2tog – Knit 2 Together