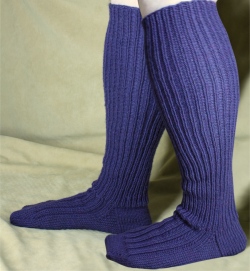 This pattern is designed for a man (or woman!) with a larger calf muscle in their legs. If you are knitting this for a leg larger than 17″ diameter, you can add stitches to the leg cuff using the gauge as a guide as to how many to add. Then simply decrease the stitches down as you get to the ankle.

Notes from my husband, the guinea pig model for the pattern *grin*: He said the sock is very comfortable and very cushioned, which is something he prefers in his socks. However, I made it with a wool yarn and this made the sock VERY warm. If you live in a warmer climate, we recommend using a cotton blend yarn or something that won't retain heat quite so efficiently. If you live in a cold climate, wool is probably perfect.
Items You'll Need
DK weight yarn – I used Berroco Pure Merino DK Weight
Size 5 Double Pointed Needles or Size 5 circulars*
Stitch Marker
Stitch Holder
Scissors
Needle to finish off toe of sock (kitchener stitch) and weave in loose yarn ends
Note: I prefer to use DPNs and my patterns reflect this, but if you use a circular needle, you can use stitch markers in the areas of the pattern which specify different needles to mark where certain stitches should be made.
Gauge:
1″ = 5 stitches and 6 rows in Stockinette stitch.
Stretched: 3 sts = 1″
Begin Knitting Your Sock
co 56 sts with a long tail cast on
k in rib knit (k1, p1) in the round for 20″ (or desired calf length), pm at the beginning of the round (this is the center back of the sock.)
Stop at the stitch marker to begin the heel
Shape The Heel
You can remove the stitch marker at this point
Slip 28 sts onto a stitch holder
The remaining sts will be worked into the heel. K 22 rows in St st.
On the RS, k 19 sts, skp, turn
*WS: sl 1, p10, p2tog, turn
RS: sl 1, k10, skp, turn*
*Repeat the last two rows until all the heel sts have been worked. You should have 12 sts remaining.
Now It's Time To Form The Gusset
Put the sts from the stitch holder back onto the needles. These are the instep sts.
On the RS, k the heel sts you've been working with.
Now along the edge of the heel rows and with a new needle, pick up 14 sts. The key is in spreading them out evenly. This is Needle 1 (N1)
k the instep: The instep is ribbed: k1, p2, (k2,p2), k1. This is Needle 2
Pick up 14 sts along the other side of the heel.
You'll have a few sts left on the original needle from the heel. k half of them onto the same needle as the 14 sts you just picked up. This is Needle 3.
Slide the remaining sts onto Needle 1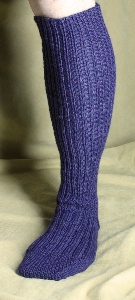 Decrease The Gusset
N1: k to last 3 sts, k2tog, k1
N2: k1, p2, (k2, p2) k1
k1, skp, k to end
The next round is knitted evenly without decreasing:
N1: k even
N2: k1, p2, (k2, p2) k1
N3: k even
Continue to alternate the last 2 rounds until you're back to 56 sts.
Knit The Foot Of The Sock
N1: k even
N2: k1, p2, (k2, p2) k1
N3: k even
Continue repeating this round until you are 2″ short of your desired foot length
Decrease The Toe
N1: k to last 3 sts, k2tog, k1
N2: k1, ssk, k to last 3 sts, k2tog, k1
N3: k1, ssk, k to end of needle
Next Round: Knit even
Continue alternating the decrease and even rounds until you're down to 28 sts. Finish off with your preferred method – I used a kitchener stitch in the pictured sock.
Knitting Abbreviations Used In This Pattern
co – cast on
k – knit
N – needle (e.g. N1=Needle 1, N2 = Needle 2 and so on)
p – purl
pm – place marker
p2tog – purl 2 together
RS – right side
skp – slip knit pass
ssk – slip slip knit
st – stitch
St st – stockinette stitch
WS – wrong side

Need help with other abbreviations? Visit our Abbreviations page!